My Friend's Growler Shop came to us with one thing on their mind: "How do we grow our brand into something appealing and recognizable in our changing neighborhood?"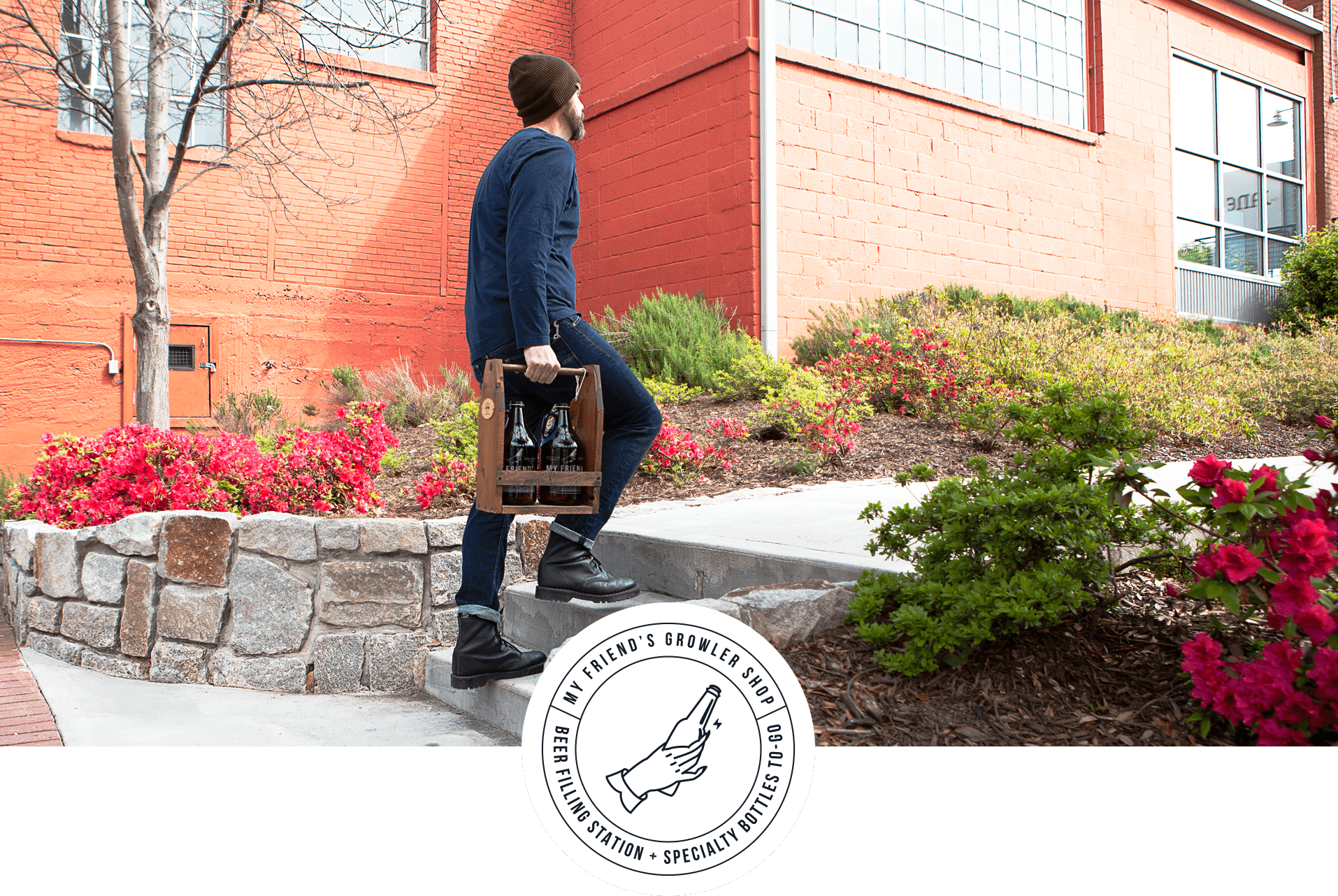 How do you grow an established business along side a rapidly changing neighborhood?
My Friend's Growler Shop is nestled in the historic Grant Park neighborhood in Atlanta, GA. Notorious for a quiet Southern cemetery and gorgeous bungalows, Grant Park has rapidly changed in the last 3-5 years. Developers have infiltrated the Atlanta area to build new housing, as well as mixed use buildings, restaurants, shops, and salons. What was traditionally an under-served neighborhood had seemingly transformed overnight into a hip, urban area attractive to Millennials.
With a mass influx of youth and money, My Friend's Growler Shop transitioned ownership to a female entrepreneur with fresh ideas and a longing for a fuller, more modern brand look. My Friend's Growler Shop's new owner knew the neighborhood was changing, and wanted to keep pace with customer demands.
Our job was to heighten marketability and keep pace with a new neighborhood attitude. We leaned into the uniqueness of My Friend's Growler Shop being a woman owned business, a rarity in the beer and growler shop game. Additionally, our marketing and design work looked toward appealing to a younger, more experimental crowd through interactive brand design.
Revised Target Market
Revised Business Persona
Updated Marketing Focus
Newsletter Creation
Networking + Partnering Guidance
Launch Advice
Main Logo, Secondary Logo, and Badge Logo
Colors and Hues for Marketing
Custom Illustrated Icons
Type Suite for Marketing & Web
Street Sign Design
Original Photographs of Interior & Exterior of Shop
Suggestions on Content and Copy
Website Layout, Design, Look, and Feel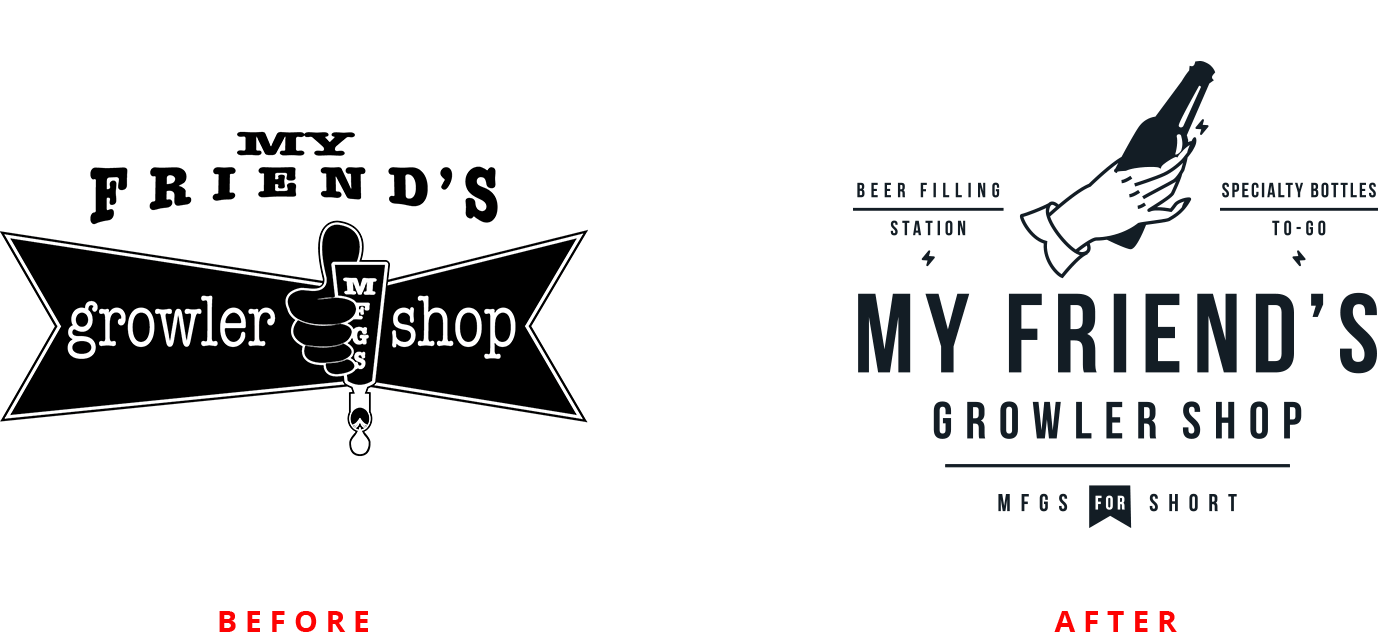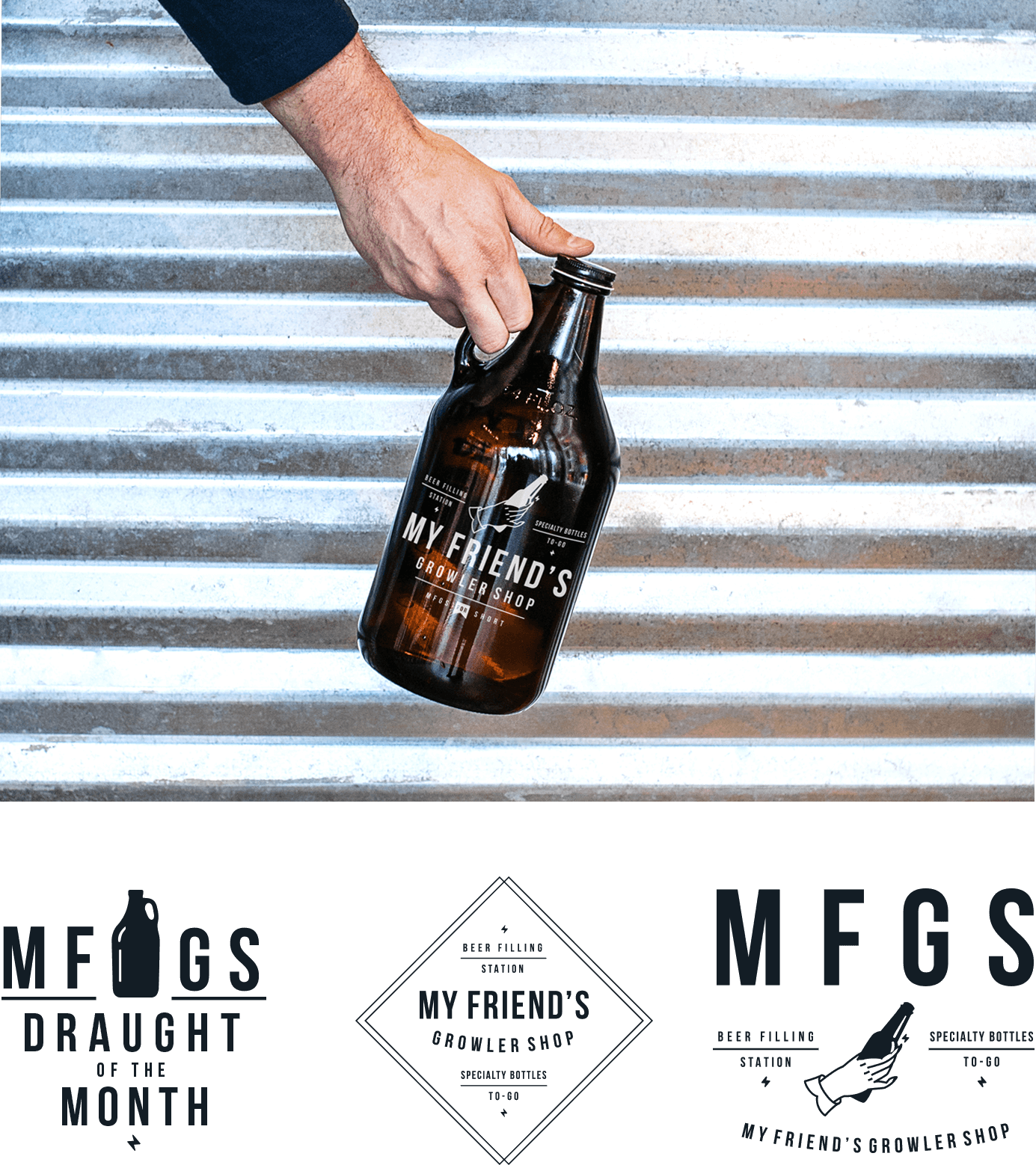 Outdoor Street and Glass Door Sign Design
Our main branded logo has small, intimiate text to help draw the viewer in closer to the main logo. We deliberately designed tiny, delicate details into the core of the brand to force people to take a second look.
While this idea is very clever for most use cases, what about when a customer is speeding in a car, looking for the store in its plaza? To solve this issue, we re-arranged the design to employ the hand like an arrow. In smaller, narrower iterations we eliminated the taglines completely.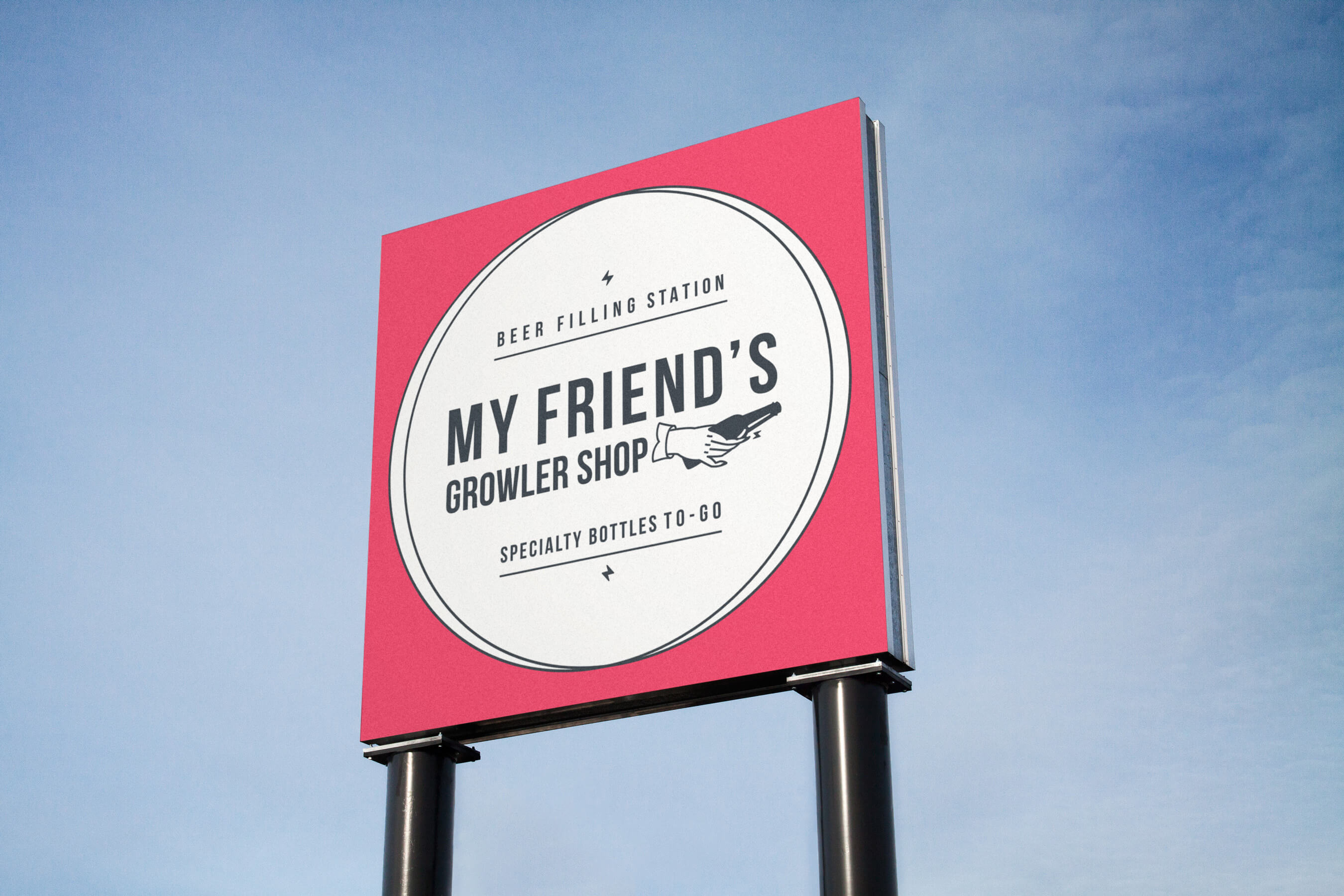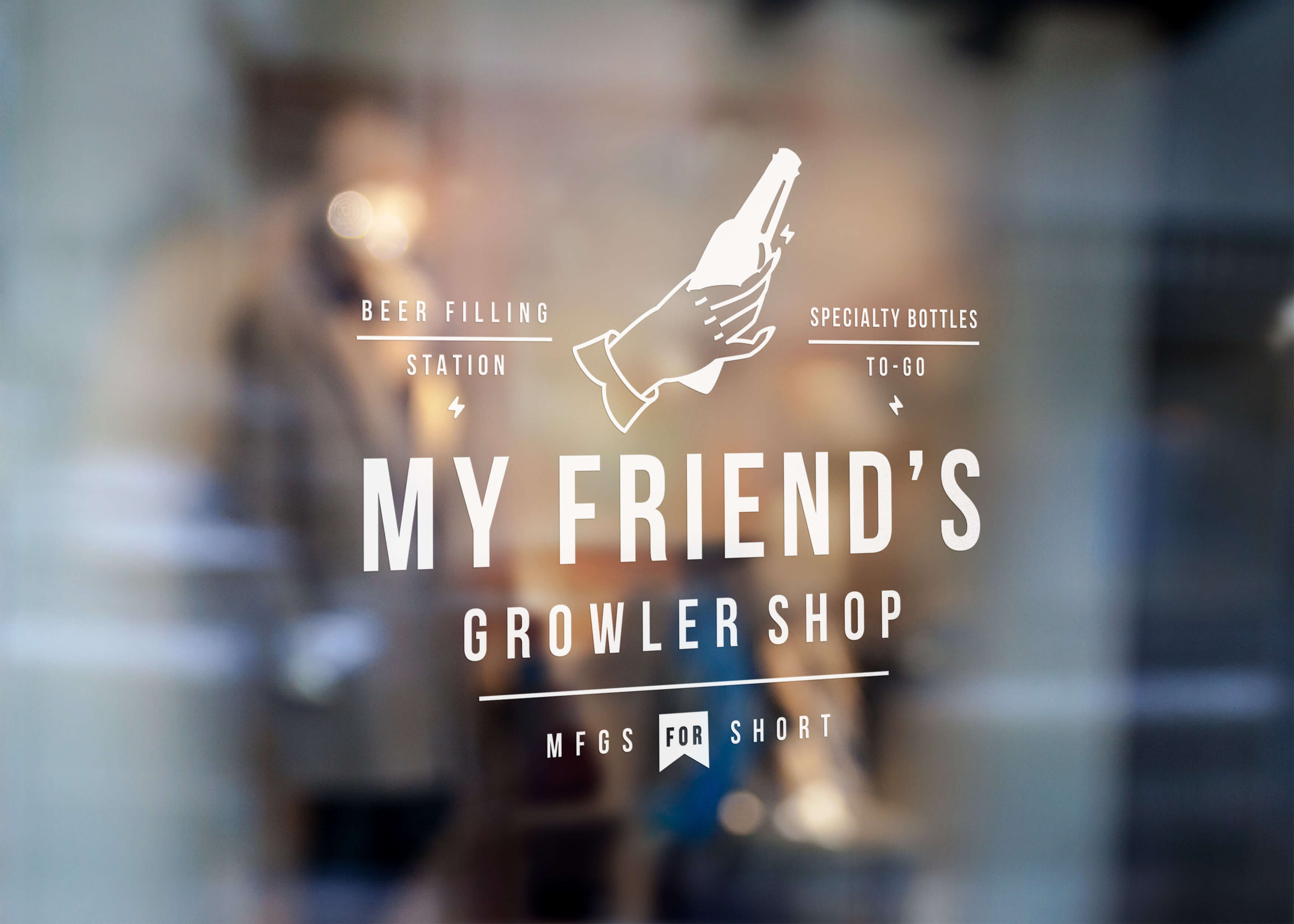 A website that delivers the goods
We quickly realized that the most effective website would be a direct, easy to navigate list of products. The target customer is typically looking for a specific drink or exploring new products to try. Tying in the business persona, (cheeky, fresh, and friendly), we built a list-like aesthetic that immediately shows the consumer we know what they want, (a list!).
The goal is for customers to find My Friend's Growler Shop quickly, see the beers on tap immediately, and be on their way to the shop to pick up their goods!